At Booth Orthodontics, we believe patients should feel informed and empowered when it comes to their orthodontic treatment, from start to finish. After all, taking the first step toward improving your oral health with orthodontics is a big deal! But how do you find the orthodontist that's best for your unique needs? Here are three questions to ask when deciding who to trust with your smile: 
Is the doctor a trained orthodontic specialist?
This may seem pretty obvious, but it's the most important question you can ask when exploring braces treatment or clear aligner therapy. While some general dentists are able to provide basic orthodontic treatment, they don't specialize in the field.
In most cases, a general dentist will offer dental services such as fillings, crowns, dentures, and occasional orthodontic treatment like Invisalign. An orthodontist, however, is completely dedicated to providing orthodontic services.
This distinction is important when choosing to pursue orthodontic treatment. Imagine that you or your child required specialized treatment or surgery. Would you feel confident with your family physician handling your case, or would you prefer a specialist who is trained to deal with that unique problem?
An orthodontist is a dentist who has 2-3 years of additional specialized training and experience. This means an orthodontist has:
studied the growth and maturation of the teeth and jaw
been introduced to numerous case studies
developed diagnostic skills
learned biomechanical techniques to properly move teeth
studied how to change the development of the dentoalveolar complex and facial growth of younger patients
Top students from any dental school's graduating class are accepted to competitive orthodontic residency programs. These programs include full-time training in correcting a wide range of orthodontics issues using braces, aligners, and other treatment techniques. 
Dr. Ryan Booth earned his doctorate in dental science at the University of Illinois Chicago College of Dentistry and went on to complete more than two years of advanced orthodontic specialty training at the University of Colorado's residency program. He earned a Masters of Science for his research on the properties of today's high-tech orthodontic wires. He's a certified specialist whose passion for orthodontics began with his own experience in braces at Booth Orthodontics. Dr. Ryan is driven to seek and develop expertise in the newest technologies and most cutting-edge orthodontic techniques.
Dr. Barry Booth is also a certified orthodontic specialist who has been creating beautiful, healthy smiles in Homer Glen for more than 30 years. After earning his doctorate of dental surgery, Dr. Barry completed extensive specialty training and his Master of Science in Orthodontics at the University of Illinois. Dr. Barry has experience treating everything from accident-related injuries and birth defects to facial and dental abnormalities. His commitment and dedication to giving every patient results they'll love and a process they'll enjoy shows in the smiles of all patients who've sat in his treatment chair!
Booth Orthodontics is part of the Schulman Group, a nationally recognized association of prominent orthodontic practices that focuses on continuing education and training to provide excellent treatment results and amazing customer service. Dr. Barry and Dr. Ryan are also members of local and regional study clubs that leverage the collective brainpower of dental colleagues to provide team-based approaches to patient care.
What treatment options does the orthodontist offer?
Booth Orthodontics proudly offers a wide variety of corrective treatment options to patients in the greater Chicago area, including traditional metal braces and Invisalign clear aligners.
Metal braces
Traditional metal braces are probably what most people imagine when they think of orthodontic treatment. Thanks to today's technology, metal braces are more lightweight and comfortable than they've ever been. Traditional metal braces are an affordable and effective treatment option for patients of all ages.  
Clear braces
Also known as ceramic braces, these function similarly to metal braces but are made of clear ceramic materials instead of stainless steel. This makes them less visible than traditional braces, making them a popular option for older teens and adult patients who want a more discreet way to straighten their smile. These braces are larger and more brittle than their metal counterparts, so we tend to use them on the upper front teeth more often than the lower teeth. 
Invisalign clear aligners
Invisalign clear aligners are removable orthodontic appliances that use a series of customized aligners to straighten the teeth. Because the aligners are clear and can be removed, patients are able to eat and drink as they normally would and effective brushing and flossing are easier to achieve. The aligners are custom-made to fit snugly but comfortably over the patient's teeth. 
How frequent are follow-up visits with the orthodontist?
Whatever treatment option you choose, you can expect relatively frequent visits to your orthodontist. For most patients at Booth Orthodontics, adjustment appointments are scheduled for every 8-10 weeks. During these visits, Dr. Barry or Dr. Ryan will check the progress of your teeth, replace any worn-out rubber bands, and make any necessary adjustments to the wires to ensure your teeth are moving in the right direction.
Patients in Invisalign clear aligner therapy are typically seen less frequently, making them perfect for busy teens and adults. While we are able to see you in office less often,  these appointments are still an essential part of the orthodontic process, so be sure not to miss them.
Treatment time will depend on each individual case, although the average orthodontic patient will spend anywhere from 6-24 months in treatment. You'll see us regularly throughout your journey and we'll always treat you like family. We know your days are busy, and we respect your time, so we never overbook patients and always aim to see you at your scheduled appointment time.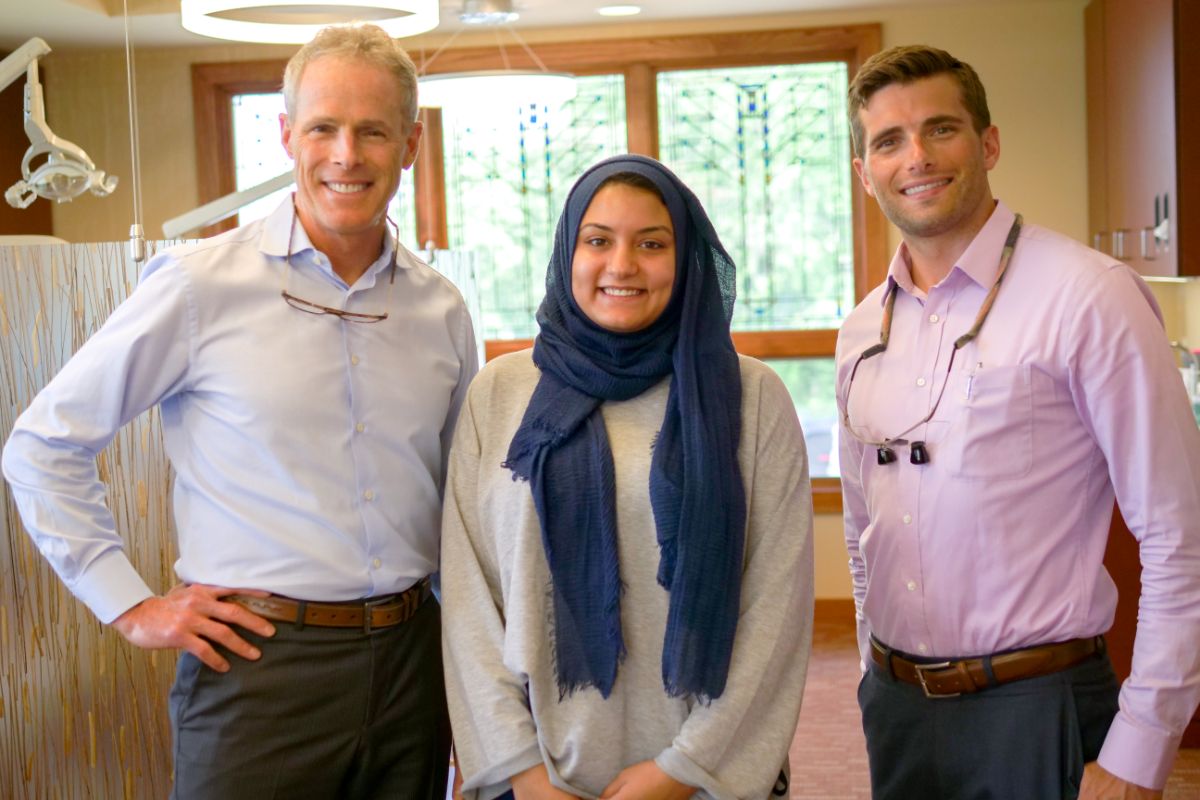 Leave your smile to the experts at Booth Orthodontics
If you're looking for expert orthodontic care in a welcoming environment, Booth Orthodontics is the perfect place for you! Dr. Ryan and Dr. Barry are skilled specialists  who give each patient the utmost care and attention to detail. Because our office specializes solely in orthodontics, you can be confident that you're receiving the best in treatments, cost, and efficiency as we work together to create your beautiful new smile.
To find out more about how you can get started on your journey to a healthier, more beautiful smile, schedule your free consultation. We can't wait to meet you!